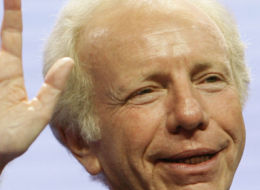 Lieberman is someone who you can't help but to take a deep breath, close your eyes and forget that he said anything for the last two years. As much as it pains me, someone who has supported Barack Obama throughout his entire campaign, to say this, I think we need to let go of Lieberman.
The burden is now on him to prove himself to the Democratic Party again now that a man he's sharply criticized is going to be the 44th President of the United States.
Lieberman has to look at himself from a PR perspective and focus positively on the issues that are affecting Americans. He needs to revitalize his image by not only supporting President Obama, but also by being aggressive on the issues that he feels that Barack Obama is not well-versed in; provide constructive input and legislation so that things are more at ease.
Politicians like Lieberman shouldn't be bogged down by the things they regret and what was said in the past, but if you're going to say things that are questionable, be prepared to answer them briefly, gracefully and move forward.
Ochs Nation
http://ochsnation.blogspot.com
Read the Article at HuffingtonPost